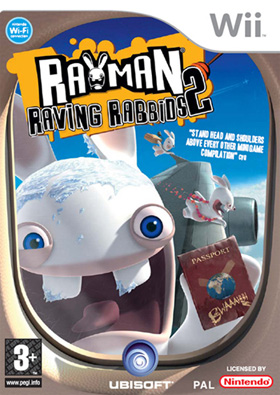 The sequel to the minigame madness rabbid game. Now to review it...
The Storyline.
The Rabbids are invading again! But this time, it's Earth they're taking over! Rayman (somehow) comes over here to stop the Rabbid' plans! (But the Rabbids aren't even that evil! They're just playing. I feel sorry for them.)
Anyway, Rayman infiltrates the Rabbid's hide-out... a shopping mall. He disquises himself as a Rabbid; puts socks on his ears (even though he hasn't got any!), and inhales helium to sound like a rabbid. Then he spies on them from a window above, but falls down. All the other Rabbids gather around him, and along comes General Bunnykins (I made that name up, by the way). he looks at Rayman suspiciously, but Rayman is saved by squeeling like a Rabbid, thus convincing the General Boss Rabbid that Rayman is one of them. So now rayman has to join in with their minigaming.
There is more storyline in this game, but once you actually start playing, it's as if the story just fades away; you never hear of anything again. But that's ok.
The minigames make up for it.
I give the storyline 7 / 10
The Gameplay.
Again, it's just a bunch of minigames. But there's more variety, and they're funnier than the prequel's minigames. These minigames are set in different parts of the world; America, Asia, Europe, Brasil, and the Tropics. You use Rayman to play 5 different minigames on each trip to a different continent, but there are more than 5; there's about 10 in each continent, with a chance to unlock bonus minigames. Multiplayer is fun, as is always with games like these.
You can have up to four players, and instead of having to use different Raymans, you can play as Rabbids aswell. (also it's impossible to choose more than one Rayman in this game). There are some really good minigames to play with friends, like the burger balance game (which is hilarious when everyone fails)
But there are some that are pretty awful, both single and multiplayer. Like this one.
This one is boring and too hard, even on easy mode. You have to shake and pick the right bottles to change your rabbid, but it's all memory and takes too long to shake to find out the contents of the potion.
So, the gameplay... it's the same type of thing as the first game, but the minigames are better. 8 / 10.
Other attributes.
You get to dress up Rayman and Rabbids to what you want, you get to unlock bonus games, and listen to songs. But that's no different from the first one. I like dressing up the rabbids though. There are some shooting minigames similar to the prequels, but the difference this time is that the background is set in real places, like Paris. There are real people walking in real streets, and Rabbids 'interact' with them (mostly by knocking them out). I like this feature. Makes it nice. Some bonus points are rewarded.
The Conclusion.
This is a good game. Similar to the first, but then again I like repetitveness (ugh, can't spell that word). The games are better.
The overall score is...
*drum roll*
87%. Great Multiplayer game, so if you're planning to have a bunch of friends round, then I suggest getting this, not WarioWare.